Calista (original name: Blair) the Masai Giraffe Fairy is the third fairy in the Escaped Animals Fairies, based off Ace, and is created by AllyTrish34.
Calista the Masai Giraffe Fairy

Race
fairy
Gender
♀ Female
Series
The Escaped Animals Fairies
Magical Item(s) / Animal(s)
Mace the Masai giraffe
Symbol(s)
indigo skulls (and giraffe silhouettes)
Appearance
Edit
Calista has straight blonde hair streaked with hot pink, a black beanie, a silver stud earring on her left ear, a leather jacket over a sparkly strapless sky blue dress, and a pair of knee-high black boots over a pair of purple leggings with white skull patterns. On her right arm are two bangles (one pink, one purple); on her left arm is a black fishnet fingerless glove. Her wings are pale green and diamond-shaped. She has blue eyes.
Calista's U.S. name is Meadow the Masai Giraffe Fairy.
Her outfit is similar to Howleen Wolf's in the 13 Wishes line, a Monster High doll.
Her animal's name is slightly changed.
She sits on top of the Rainbow Magic logo in this series.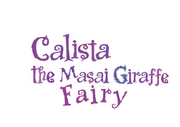 Ad blocker interference detected!
Wikia is a free-to-use site that makes money from advertising. We have a modified experience for viewers using ad blockers

Wikia is not accessible if you've made further modifications. Remove the custom ad blocker rule(s) and the page will load as expected.