Fan Art!

This article is Fan Art. This means that it was created by fans of Rainbow Magic and it is not officially part of the series.
Emilia the Cookie Dough Fairy

Race
Fairy
Gender
♀ Female
Series
Ice Cream Flavour Fairies
Magical Item(s) / Animal(s)
Cookie dough charm
Symbol(s)
Cookie dough ice creams

Emilia the Cookie Dough Fairy is the 7th and final fairy of The Ice Cream Flavor Fairies.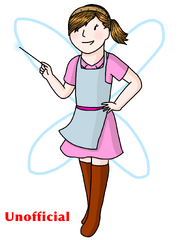 Appearance
Edit
Emilia has fair skin, short shoulder length brown hair in a ponytail with a special cookie dough hair band, her wings have a blue tint, she wears a pink dress with a blue apron and a pink belt and tan boots and cookie dough ice creams come out of her blue wand. Her magic item is a cookie dough charm.
Powers and abilities
Edit
The seven standard powers of a fairy
Makes sure that cookie dough ice creams are not poisoned, not too sticky, not even melted too quickly and not dull
Ad blocker interference detected!
Wikia is a free-to-use site that makes money from advertising. We have a modified experience for viewers using ad blockers

Wikia is not accessible if you've made further modifications. Remove the custom ad blocker rule(s) and the page will load as expected.