Fan Art!

This article is fanart! This means that it was created by fans of Rainbow Magic and it is not officially part of the series.
Gretl the Grasshopper Fairy is the third fairy in
The Insect Fairies
.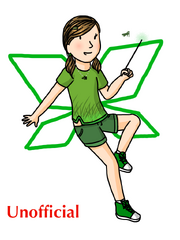 Appearance
Edit
Gretl has light skin and medium length wavy light brown hair in pigtails and a grasshopper clip in her hair. She wears a light green shirt and green shorts, white socks, green sneakers and a grasshopper pendant and her wings are diamond shaped and green tinted.
Symbol: Grasshoppers.
Magic Object/Job:
Job: Making sure that the grasshoppers don't hop on to people.
Magic Object: A grasshopper named Hollyjanes.
Her U.S. name is Greta the Grasshopper Fairy
She has the same wings as Louise the Lily Fairy