Not to be confused with Izzy the Indigo Fairy.
Fan Art!

This article is fanart! This means that it was created by fans of Rainbow Magic and it is not officially part of the series.
Isi the Indian Cobra Fairy is the second fairy in the Escaped Animals Fairies, based off Animal Kaiser character, Spade. She is originally created by AllyTrish34.
Isi the Indian Cobra Fairy

Race
fairy
Gender
♀ Female
Series
The Escaped Animals Fairies
Magical Item(s) / Animal(s)
Valeria the Indian cobra
Symbol(s)
cobra silhouettes
Appearance
Edit
Isi has brown shoulder-length hair with a thick purple tiger-striped streak, and green eyes. She wears a blue, black, and white layered dress with a sweetheart neckline that wraps around her neck with black and blue straps. The first layer on the top is white; the bottom is black. The (attached) skirt is also made out of two layers: the bottom one is a black mesh, the upper one is solid blue. The back of the bottom part of the dress has a long, blue cloth emblazoned with gold snake patterns. Her stilettos are gold with blue heels. On her ears are a pair of syringe earrings. Her wings are blue.
Isi's U.S. name is Tanika the Indian Cobra Fairy.

Tanika is an Indian name.

Isi's earrings are an allusion to a picture found in the back side of some Animal Kaiser Evolution 5 cards and the fact that Spade the Indian Cobra is an (underground) doctor.

In the arcade game franchise, Spade's nickname says "Escaped Doctress" on the front side of the card.

Her clothes could be a recolor of 13 Wishes: Haunt the Casbah Frankie Stein doll. And Isi lacks the bangs, the streaks, earrings, bracelets, and headpiece found on the Monster High doll.
She sits on top of the logo in this group.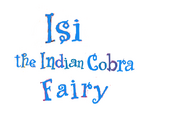 Ad blocker interference detected!
Wikia is a free-to-use site that makes money from advertising. We have a modified experience for viewers using ad blockers

Wikia is not accessible if you've made further modifications. Remove the custom ad blocker rule(s) and the page will load as expected.