Jacqueline is the first fairy of the YouTuber Fairies, based off of Irish video game commentator and occasional vlogger Jacksepticeye. 
Appearance 
Edit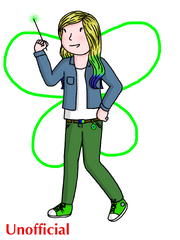 Jacqueline has long, blonde wavy hair with the ends dyed green and blue. She wears a denim jacket over a white t-shirt, jeans and green converse high tops. Her magical keyring is attached to the jeans waistband and her wings are round-edged and green. 
Symbol: Septic eyes.
Magical object/ Job:
Magical object: Septiceye keyring.
Job: Watching over Jacksepticeye, making sure he enjoys a variety of games as well as his fanbase.