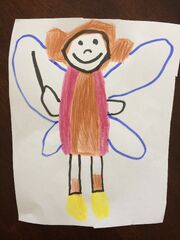 Kaelyn is the 6th Fairy in
The forest fairies
.
Appearnce:
Edit
Kaelyn has long, brown hair pulled into buns, she wears a pink jacket over a brown T-shirt. she also wears brown socks and yellow Maryjanes. her wings are indigo tinted.
Magical object/job:
Edit
Symbol: Sticks
Job: Make sure that sticks look Beautiful.
Magical object: Magic bag of sticks dust.
She looks the same as Princess Leia.