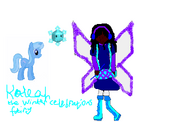 Kaleah the Winter Celebrations Fairy is the third fairy in the Snow Kingdom Fairies
Appearance 

Edit
She has African American Skin, Black Curly hair which is similar to Sabrina the Sweet Dreams Fairy's Hair-Do with indigo ear muffs, she wears a dark blue winter dress with a teal hand warmer with purple checkers, White Tights and Turquoise Boots and her wings have indigo tint  The unicorn's appearance  === The unicorn's appearance ===
She has a magic blue unicorn named Destine. She has blue skin, pale blue mane, indigo eyes, and a umbrella cutie mark. Destine owns a silver magic horn which lights up with light blue aura, which let Kaleah, Kirsty, and Rachel find Pola the aqua snowflake spirit.
Powers and abilities

Edit
1. the seven standard powers of a fairy
2. makes sure that the celebrations and feasts are a big success during winter
Her magic unicorn's name is Destine.
Her magic fairy dust shape is a firework.
Her U.S. name is Wanda the Winter Wonderland Fairy.
The goblins put up a trap and Destine fell in it.
Ad blocker interference detected!
Wikia is a free-to-use site that makes money from advertising. We have a modified experience for viewers using ad blockers

Wikia is not accessible if you've made further modifications. Remove the custom ad blocker rule(s) and the page will load as expected.