Kristyn the Trifle Fairy is the fourth fairy in
The Dessert Fairies
.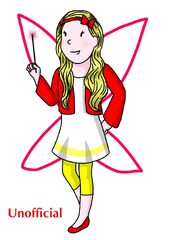 Appearance
Edit
Kristyn has long wavy blonde hair and wears a red headband with a bow. She wears a white dress with a yellow stripe in the bottom and a pink bow tied at the back, a red jacket, yellow leggings and ballet pumps. Her symbol is a trifle with cake and pudding with whipped cream, strawberries, cherries, blueberries and raspberries. her Magic object is a Trifle charm that makes Trifles Creamy. fruity and sweet. Her wings are pointed and pink tinted.
Her U.S. name is Trina the Trifle Fairy
She has the same hair color as Sky the Blue Fairy and the other blonde Fairies.
Ad blocker interference detected!
Wikia is a free-to-use site that makes money from advertising. We have a modified experience for viewers using ad blockers

Wikia is not accessible if you've made further modifications. Remove the custom ad blocker rule(s) and the page will load as expected.