Fan Art!

This article is Fan Art. This means that it was created by fans of Rainbow Magic and it is not officially part of the series.
Levine the Banquet Fairy is the second fairy of
The Prom Night Fairies
.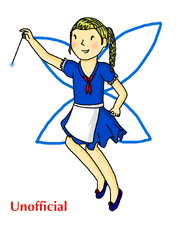 Appearance
Edit
Levine has light skin and long blonde hair in a braided ponytail. She also wears a sparkly blue knee-length dress with a red sash and a white apron and blue ballet pumps with red roses. Her wings are pointy and blue tinted. She helps prepare foods in the Banquet.
Symbol: Dinnerware
Magic Object/Job
Job: Levine's job is to make sure the banquet hall goes nice, set with tables with tablecloths, napkins, chairs, dishes, glass cups, forks, spoons and dinner knives.
Magic Object: Dinnerware
Levine has the same wing shape as Daisy the Festival Fairy's wings
Ad blocker interference detected!
Wikia is a free-to-use site that makes money from advertising. We have a modified experience for viewers using ad blockers

Wikia is not accessible if you've made further modifications. Remove the custom ad blocker rule(s) and the page will load as expected.