Fan Art!

This article is Fan Art. This means that it was created by fans of Rainbow Magic and it is not officially part of the series.
Lynese the Casino Party Fairy is the sixth fairy of
The Prom Night Fairies
.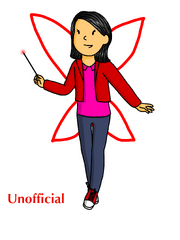 Appearance
Edit
Lynese has tan skin and shoulder-length black hair with a glittery silver star hairpin. She wears a sparkly pink shirt, a red jacket, blue jeans, white socks and red sneakers. Her wings are pointy and red tinted.
Symbol: Playing cards
Magic Object/Job
Job: Lynese's job is make sure the casino goes well with roulette, bank, big six wheel, bingo, bola tankas, dice games, faro, keno, card games, poker, slots and make sure people are getting free casino tokens by winning casino games.
Magic Object: Casino tokens
Lynese's jacket is inspired by Champ Bear's jacket from The Care Bears Family
Lynese has the same wing shape as Kayla the Pottery Fairy's wings
Ad blocker interference detected!
Wikia is a free-to-use site that makes money from advertising. We have a modified experience for viewers using ad blockers

Wikia is not accessible if you've made further modifications. Remove the custom ad blocker rule(s) and the page will load as expected.