Mel is the 2nd fairy in The forest fairies,
Appearnce:
Edit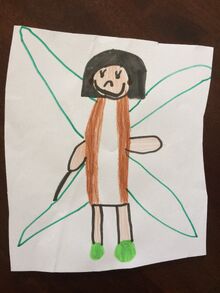 Mel has short, black hair. she wears a brown jacket over a white shirt. she wears green shoes.
she wears wood earrings. her wings are pointed and green tinted,
Magical object/job:
Edit
Symbol: Woods
Job: make sure that woods grow well,
Magical object: magic bag of wood dust
Mel's farovite movie is the secret life of pets because one of the pet has her name in the movie!
Mel is friend with Fern the green fairy.
anyone who is on this page can't delete this.
Ad blocker interference detected!
Wikia is a free-to-use site that makes money from advertising. We have a modified experience for viewers using ad blockers

Wikia is not accessible if you've made further modifications. Remove the custom ad blocker rule(s) and the page will load as expected.