Sally is the 1st fairy in The forest fairies,
Appearnce:
Edit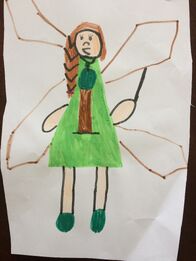 Sally has long, brown hair pulled back into a pialt. she wears a green dress with a picture of a tree on it.
She wears running shoes which is green, and wears a tree necklace, her wings are diamond-shaped and brown tinted.
Magical object/job:
Edit
Symbols: Trees
Job: Making sure that trees glow well and not chopped,
Magical object: Magic bag of tree dust
Her US name is Freya the tree fairy (Freya the friday fairy is changed from this)
She is a friend with Fernanda the Forest Aura Fairy, along with her friends and Mischa the Forest Fairy.
Sally can climb trees but not other fairies,
she is named after a rose,