Fan Art!

This article is Fan Art. This means that it was created by fans of Rainbow Magic and it is not officially part of the series.
Tabby is the 3rd fairy in The Cupcake Fairies. 
Appearance: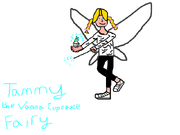 Tabby has long, blonde hair in two plaits with pink ribbons. She wears a white feathery long-sleeved top, black leggings and white converse trainers. Her wings are grey tinted.
Symbol: Vanilla cupcakes with white frosting and rainbow sprinkles. 
Magic Object/Job:
Job: Making sure vanilla cakes taste delicious and are fluffy. 
Magic Object: A vanilla cupcake with light blue frosting and rainbow hundreds and thousands.