Fan Art!

This article is Fan Art. This means that it was created by fans of Rainbow Magic and it is not officially part of the series.
Theona the Thanksgiving Fairy is part of The Special Edition Fairies. She is a one-off fairy.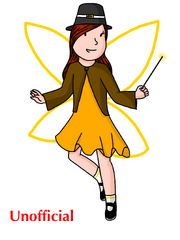 Appearance
Theona has light skin and long reddish-brown hair. She wears a pilgrim hat on her head. She wears an orange dress with a brown jacket. She wears white socks with gold lining and black maryjanes. Her wings are gold tinted.
Symbol: Pilgrim hats
Magic Object/Job
Job: Theona's job is to make sure that Thanksgiving feasts are good for everyone.
Magic Objects:
Pilgrim hat: makes sure that thanking is not dangerous
Roast Turkey Charm: makes sure that cooking is not wrong
Pumpkin Pie Charm: ensures that baking pies is not a disaster.