Fan Art!

This article is fanart! This means that it was created by fans of Rainbow Magic and it is not officially part of the series.
Tiffany the Dragonfly Fairy is the fifth fairy in
The Insect Fairies
.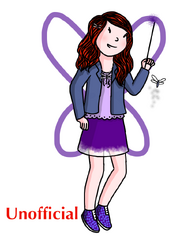 Appearance
Edit
Tiffany has light skin and long wavy auburn hair and a dragonfly clip in her hair. She wears a lavender top in a blue denim jacket and a purple skirt, white socks with blue lining, purple flat sneakers and a dragonfly pendant and her wings are purple tinted.
Symbol: Blue and purple dragonflies.
Magic Object/Job:
Job: Making sure that dragonflies fly safely.
Magic Object: Glow the dragonfly.
She has the same wings as Lexi the Firefly Fairy
Her wings have the same pose as Una the Concert Fairy