Vicky the Vanilla Almond Fairy is the fourth fairy in The Ice Cream Flavor Fairies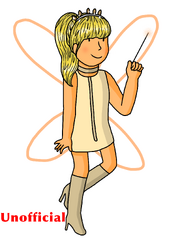 Appearance

Edit
Vicky has semi dark skin, long blonde straight glossy hair with a special vanilla almond tiara, her wings have a tan tint, she wears a cream sleevless dress with a beige zip and choker and beige boots and Vanilla almond ice creams come out of her black wand. Her magic item is a Vanilla almond charm.
Powers and Abilities

[1]EditEdit
The seven standard powers of a fairy
Makes sure that vanilla almond ice creams are not poisoned, not sour, not too sticky, not a choking hazard and not dull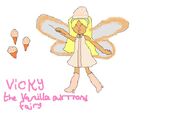 Ad blocker interference detected!
Wikia is a free-to-use site that makes money from advertising. We have a modified experience for viewers using ad blockers

Wikia is not accessible if you've made further modifications. Remove the custom ad blocker rule(s) and the page will load as expected.